Founded in 1998 and based in Dallas, Texas, Istation (Imagination Station) has become one of the nation's leading providers of richly animated, game-like educational technology.
Winner of several national educational technology awards, the Istation program puts more instructional time in the classroom through small-group and collaborative instruction.
Istation's innovative reading, math, and Spanish programs immerse students in an engaging and interactive environment and inspire them to learn.
Additionally, administrators and educators can use Istation to easily track the progress of their students, schools, and classrooms.
Istation now serves over 4 million students throughout the United States and several countries.
Our Story
At Istation, we believe every student deserves to feel like a superhero.
We know that teachers are often the wind beneath their capes.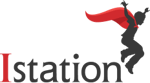 Our logo with a child wearing a red cape was inspired by this belief! It's great to see how we've built a following of passionate, dedicated educators and students called the Red Cape Nation.
Read more about how our red cape illuminates students' inner superheroes in our company-produced comic,
The Red Cape.